Steve Jarman Knows
What it means to be a teacher.
Thirty-one years of dedicated, award-winning service to the students of Pauls Valley.
What it means to work hard at a second job.
Owner and operator of a pest control business since 1981.
What it means to have a third profession to make ends meet.
Scuba diving instructor since 1992.
Steve Jarman pledges to work hard and represent the people of house district 20 with dignity.
Steve Believes In
Funding education so ALL students can achieve excellence.
Good governance so ALL Oklahomans may have the opportunity to prosper.
Safe schools for ALL students.
Steve Jarman. A representative you can be proud of.
News
Wednesday, October 10, 2018 4:05 PM
Steve's Great-Niece Helps Him Throw Candy at the Purcell Homecoming Parade
Steve's great-niece, Preslea, helps him throw candy at the Purcell homecoming parade. - Friday, October 6th.
---
Monday, September 24, 2018 10:31 AM
Pauls Valley Regional Medical Center Fundraiser
Steve serves at Pauls Valley Regional Medical Center's barbeque fundraiser on Sunday, September 23, 2018.
---
Sunday, September 23, 2018 8:27 PM
Steve Meets With Senator Elizabeth Warren
Steve met with Massachusetts Senator Elizabeth Warren on Saturday, September 22, 2018, at a rally for educators who are candidates at Northwest Classen High School.
---
Friday, September 7, 2018 3:59 PM
Meet & Greet Fundraiser for Steve Jarman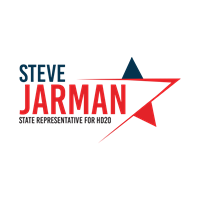 Drs. Kim & Susan Jones, Terri Begley, Lazaro Cardenas, Ronnie & Peggy Patton, Floyd & Mary Johnson, Candace Blalock, Kim & Al Jackson, Susanne & John Blake, Gini Rodke, Martha & Pearce Blake, and Helen & Don Watts cordially invite you to a Meet & Greet Fundraiser for Steve Jarman.
Thursday, September 13, 2018 | 5:00 P.M.
Bob's Pig Shop
929 N. Ash
Pauls Valley, OK 73075
Any and all contributions are appreciated. No minimum donation required.
---
Tuesday, August 7, 2018 3:13 PM
Steve Teaches 12-Year-Old Drake Dixon to SCUBA Dive
Steve Jarman is showing Drake Dixon how to perform a mask removal and replacement.